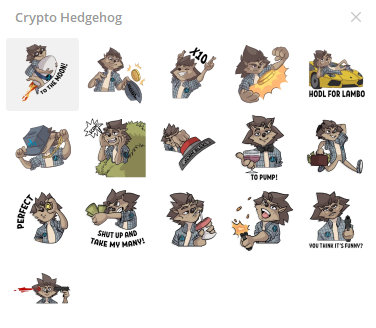 Hello, dHedge community & Councils!
This is my proposal for September & October.
Social media metrics
Followers: 169
Growth: 10%
Followers: 58
Growth: -15%
Followers: 488
Growth: 150%
Increased engagement
Followers: 1097
Growth: 1000%
Views: 80-90% of total followers.
1. Total spends of past budget (lasted for 2 moths):
Telegram promo: 700$
Stickers: 100$
Facebook: 150$
Production: 150$
Not relevant:
200$ lost on network fees
250$ saved in ETH
450$ life bills & survaving
Total: $2000
2. Content creation report
Developed character and sticker pack for telegram: Telegram: Add Sticker Set
Summary
Posts in telegram: Telegram: Contact @dhedgerus
Not much of new content. I decided to grow community first, before create original education content.
3. Translations, announcements, etc.
DHT Treasury https://bit.ly/30t5lJe
Bug bounty
All announcements were published here Telegram: Contact @dhedgerus
Telegram promotion.
I tried to push our community on Facebook and came to face that it's not effective for us right now.
So I started an telegram promotion for goup and channel. The methods I used are massive sending direct messages to target audience & relevant chats and inviting people.
The I received a burst result.
Here's some statistics I've got.
My 2 custom links. More links have been created, but they don't show up on my account
Summary
Telegram mass mailing.
Examples of messages
Summary






Statistics
Summary






We see a rapid grow on screenshots due to mass mailing was completed in less than 4 hours.
All users are target audience and organic. I can prove it if needed.
Report: Loading Google Docs
12600+ messages are sent.
4. Plan for next month.
Keep pushing telegram community.
Educational content for new users.
$50 contest for users. (new ideas for dHedge for ex.)
Ref bot for telegram community.
5~ Maybe one promotional video.
5. Compensation request.
1500 USDC + 500 DHT.
DHT I'll use to show how platform works and invest in pools.
USDC will be used for further community development as depicted above.
Address (Polygon enabled)
0x2E3c9B3eA36630bdDa11078f5f3028F0b1E10c5B