Hello, dHedge community!
This topic is to describe & discuss a problem of inviting new manager to the platform. I think that not only me already thinking about it, but I'll define how I see an implementation of it.
Community contributors have a chance to get a special type of reward from dHedge:
Bonus for attracted manager after his pool exceeds $25k of total investments— 800 USDC + 800 DHT.
Problem
The question is: how to prove & monitor which manager was invited by you?
Currently, we can only directly invite people while chatting with them. Then, if one of them created a pool, we can note his name and pool.
After we get a list with people who created a pool we can only wait before one of them reaches $25k. But how we can finally prove that manager of the pool was invited by you? Now it's only we can text him and ask a question "were you invited by %name%?" which is a bit strange…
Solution: a referral system
A simple referral program can solve the problem of monitoring & proving invitations.
Andanteges
• New functions on the platform;
• More automatization;
• Scalability;
• A stimulation for attracting people;
• Everyone can participate;
• "Free" marketing for dHedge.
When we set up such a system and let people know that everyone can earn rewards, we'll receive good feedback from the community and give them the motivation to create & spread original content. This will have a positive effect on the indicators and recognition of the platform.
Potential problems:
• Abusing — we should prevent reward abusing with multi-accs. One user can create a pool > invests on it with other accounts > claim a reward > close a pool > repeat.
• Appearance of many low-quality pools from random users that were attracted from promotion.
A simple scheme of implementation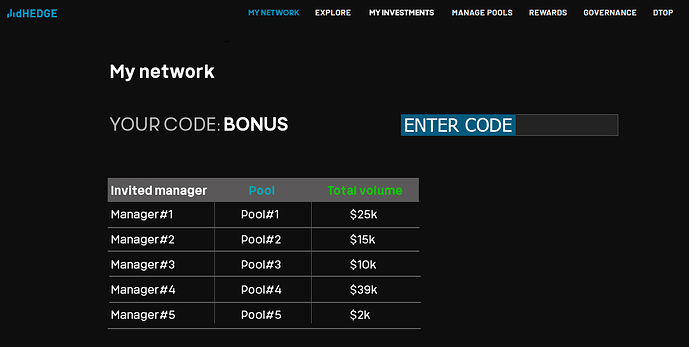 So, we add a special page for it, names "My network", where we can see all info:
Our invitation code
A field where we can enter someone's code
A list of invited managers and their pools status.
This is just a quick scheme, not well designed and not everything was showed here.
If you have something in mind about it, please write comments. Thanks for your attention!